There's a lot of buzz around Canva at the moment. The Australian graphic design and publishing platform recently hit a valuation of US$6 billion ($8.6 billion), making it Australia's most valuable private company. The bottom line is, their success would not have been possible without their strong and unwavering commitment towards their people and culture - their "vibe".
To find out more about how Canva keeps their vibe alive - especially through tough times, we caught up with Canva talent acquisition lead, Francisco "Disco" Morales. Join us as Disco gives the lowdown on the Canva culture, how Canva is prioritising wellbeing during COVID, key people challenges moving forward, and top tips for creating an environment where your people can thrive.
Let's get into it!
Can you tell us a bit about yourself and your role at Canva?
"I grew up in the US, but I've been a recruiter in Australia for the last ten years. I joined Canva a little over four years ago, primarily focused on recruiting backend software engineers.
"Over that time, I've moved into other areas of of the business. I got a bunch of new engineering teams off the ground, got the security team off the ground, got the Android team off the ground. Now, I'm working across the broader infrastructure group as the recruitment lead for that engineering division."
Canva is famous for its company culture. Can you tell us a bit about this and why it's so important?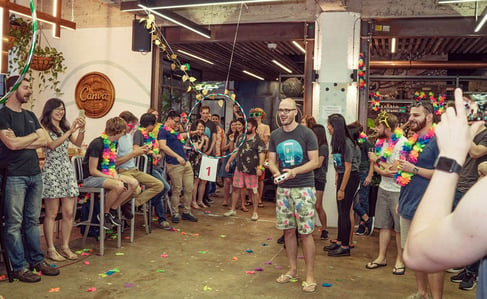 "For example, from the very beginning our small and scrappy team used to work from Melanie Perkins' (CEO and cofounder) mum's living room - they would take breaks together and prepare lunches for each other. It was an opportunity to get to know each other, outside of the work environment. It was also an opportunity to relax and have some down time, and build a sense of community. As the company grew and grew and grew, we realised that there was value in that. Check out the team doing drone obstacle race to celebrate the launch of Canva Android. (source)
"To this day, we've got over 650 people in our Sydney office that have lunch everyday and it's still served communal family style."

"The reason that it's important is because, to be able to achieve a common goal, to be able to set really, really big goals and hit them, everybody needs to be able to work together, everybody needs to be on the same page. And, it's really hard to achieve that if you're not taking care of your people."
How did Canva keep the vibe alive when their workforce shifted to working from home, and now shifting back to the office?
"We have a social responsibility as a business to do the right thing by our people and the broader community. That meant people needed to stay at home, and we needed to be able to support that as a business. The core idea was: 'how do we take what we have and maintain it?'
"Well, we did a lot of things, but here are three that float to the top!"
1. Community lunch
"We gave everyone a stipend and said, 'hey we can't make you lunch anymore, but if you'd like to order something from a local cafe, or get something delivered and keep your local businesses moving - that's a good thing - feel free to use your stipend for that.'
"Not many people know this, but Canva is partnered with Hebron farm, where we grow the majority of the produce that we consume in the office. We've taken all that produce and we've been donating it to OzHarvest, and a couple of other charities. We're still utilising the farm, and doing good with that. Leftovers get put into hampers, and if you live within 15km from the office, they'll have it delivered to you each week."
"It's about maintaining that sense of community and doing good even when we're not together."
2. The Vibe Team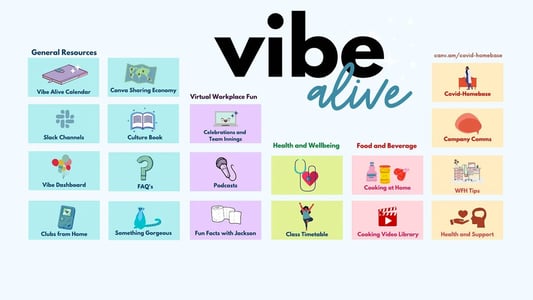 "We've got this function in the People Team called Vibe. They're responsible for the office facilities, the hospitality bits of the business, and events. They are kind of the executors of the broader cultural strategy. Chris Low and his team have done an incredible job of making sure that everyone's looked after, that we're utilising our resources, and still doing good for the community.
"The company is known for having lots of team social clubs - from wine club to parents club to expats club - we had to shift to move a lot of that online. We created an internal portal with all the resources that we need. We have an internal health and wellness coach, Bibby. She runs online fitness classes for teams. We also gave people a budget to buy desks, and things like that."
"Some people actually had their office desks delivered to their homes. The company really went above and beyond - mad kudos to the Vibe team for that."
3. Flexible work schedules
"We made it very easy for people to adapt their personal lives around work, rather than having to be like, 'I have to work at this block, and I can't do anything, and the kids are going to have to look after themselves!' We didn't want that sort of thing.
"We gave everyone a Zoom Enterprise licence. But you have to be mindful of that, because you still get Zoom fatigue, and everybody has a different work style. So we implemented Meeting-Free Wednesday's. I love it because I can actually have a day to answer my emails. They are thinking about everyone's health and wellness. It's been quite nice."
"We didn't want people to have to choose between home or work. We want people to be able to do both, in whatever order they prioritise."

(more about how Canva supports parents working remotely)
Shifting back to the office
"So, going back to the office, we re-opened our office as of Monday June 23rd, with social distancing measures in place. We took a survey, and asked who wants to come in full-time? Who wants to come in two or three days a week? And, who would prefer to stay home for the rest of the year? Then the Vibe team went in and actually rearranged the office to account for all of that.
"Some people couldn't wait to go back to the office. Others have actually found themselves happier working remotely. So, the plan going forward is that we're going to use the next six months to assess what's working for the team. We're still working out what the future looks like for next year and beyond."
"We expect to remain as flexible as we can to ensure our employees can continue to do their best work."
Working remotely, it's so easy for people struggling to slip through the cracks. How do you monitor the wellbeing of your people when you can't always see them?
"We're sending out weekly surveys to see how people are feeling and what they're struggling with. They're anonymised, so if you're really struggling with something, but you don't want to out yourself, you can do that. But, that being said, there's a direct channel into HR at all times.
"Every product group at Canva has a dedicated HR business partner who's responsible for regular check-ins to make sure everybody is okay. If people are struggling with performance, the HR business partner is making sure that we're enabling them to succeed and get over that hump. If they're having personal issues, they're seeing what we can do to accomodate. They're effectively part of your team, so it's not intimidating to approach them if you're struggling.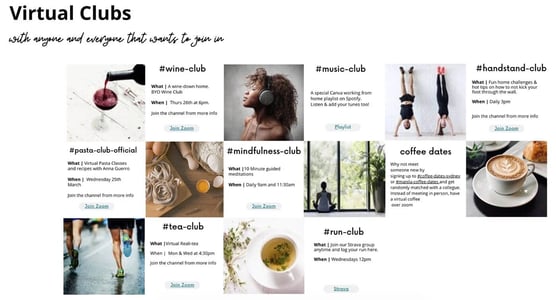 "We have the employee assistance program in place as well. We have two full-time performance coaches that people have access to. We still have a weekly company 'all-hands'. We utilise Slack very heavily, so everyone's still reachable. And we still do our social clubs (fitness, wine tasting, video games, and more…). Having all of those different touch points makes it easy to stay connected with everyone, and keeps people visible."
"You're visible because you're engaged, but also, if you do feel like you're not engaged, you have the means to flag it."
Moving forward, what are some key people challenges and how can companies overcome them?
"I think the biggest challenge is companies are going to have to be more flexible whether they want to or not, for a couple of reasons. One, you want to take care of your people. And, two, if you're one of those companies that holds out, and that person really does like remote work, well now everybody else is being more flexible, so they're just going to get a job elsewhere. Right?
"We're a tech company, so fortunately we had all the technology in place. We literally had to upgrade everybody's Zoom licenses, give people access to a few more systems, and we did it in a day. But, for other companies it was a big struggle.
"The problem is that some of those companies are going to want to go back to what they used to do, and that may not necessarily be the best thing for their workforce. You have to be flexible for different styles and personal circumstances."
"The companies that aren't flexible, or are just going to try to go back to pre-COVID, they're going to be the ones struggling because they're going to lose good people."
What are your top 3 tips for creating an environment where people can thrive?
Tip 1: Take care of your 3 Ps - People, Process, Profit
"I'm actually lifting this from a really good book called 'The Hard Thing About Hard Things' by Ben Horowitz. He says that you've got to take care of the three Ps, in this order: Your People, your Processes, and then your Profits. And, I think that if it were my business, that would be the golden rule because I've seen it work at Canva. I've seen it work at other technology companies. If you look after your team, you give them all of the tools, the flexibility and the trust that they need to do their best work, they will do their best work."
Tip 2: Be flexible
"People no longer work 9-5. The Internet has changed that. Businesses are multinational. They've got around the clock operations. If you are an employer that is still trying to cram people into that 9-5, 'you must be here', 'you can't work from home', 'no you can't go see the dentist', you're going to struggle. So, you have to be flexible, and you have to be understanding, and - this is going to sound cheesy, but sincere - but you have to be human about it. That's another one of Canva's values: be a good human."
Tip 3: Live your values
"We're not doing anything that's revolutionary. We're just being compassionate. And, I think, as a company, if you can demonstrate that with your employees and amongst your internal company community, you're going to get a better result."
"In this world, that's a bit up and down at the moment, a little compassion goes a long way."
---
This conversation was brought to you by Pioneera.