Leaders love additional team support from Indie

"Indie gives our business meaningful insights into the wellbeing of our staff. Having this data at our fingertips, helps us to make decisions that improve staff morale and productivity.
The customer service is amazing and we are learning so much from the team at Pioneera!"

"Indie has been a great tool to use within the business here at Lotus People.
By having Indie, this has allowed us to monitor the stress levels of the team and notice the patterns, to try and avoid burnout, which is all so common within recruitment industries."

"Our usage of Pioneera is ultimately reflected in my team's 93% employee engagement score, which is much higher than our company average and up 10% from last year."

"Indie has been both great fun and insightful for the team. It's the little things in communication or lack of it that we don't notice when we're messaging and working remotely. They inform us and shape team culture.
Having Indie has made us be even more active on team engagement, well-being and happiness. The X-ray of sunshine."

"Indie has been a great tool to turn to on tough days, to help us step back, take a breath and check out her tips to see what we can be doing to engage a better wellbeing individually and as a team!
We are excited to see the trends as the year goes on, and continue to implement what we can to keep us not only hitting goals, but doing so with a smile!"

"Indie is such a great innovation - we used it to see when as a team we were at our best but more importantly when tensions were running high or people were frustrated.
Just knowing when people are under pressure, particularly with increased remote working is very valuable."

"The Melbourne lockdowns happened so quickly we had to adapt our ways of working. Luckily we had Indie in our Slack channels which enabled us to not only stay connected with our team members, but on top of our mental health and wellbeing by accessing our Indie Dashboards."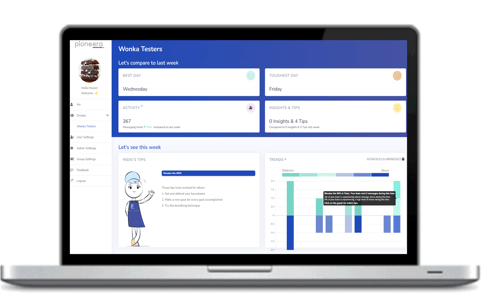 Get powerful insights into the mental health of your team
Indie uses world-first technology that offers what other occupational wellbeing tools cannot - real-time analysis of people's stress using machine learning.
Find out what time of day your team feels most under the pump. Discover what occurrences lead to rising stress levels and get leadership tips in real-time to improve your working environment. Privacy is our top priority! So you can rest assured that your team's data remains confidential.
Our Clients