(Originally published by The University of Sydney, 26 May 2021)
Detecting the early warning signs of stress using technology
The Grammarly for mental health, Pioneera, has won the Genesis prize in a tight competition between seven entrepreneurs from the University of Sydney.
Founder & CEO of Pioneera, Danielle Owen Whitford, created the startup after experiencing burn out at work.
"When I looked back on that time, I realised the warning signs were there, but I was just too busy to see them," she explained. "I decided I wanted to help others prevent this situation and I felt the secret was in our language."
"Pioneera is a wonderful example of how our graduates are innovating to solve pressing real-world problems like mental health."
- Professor Leanne Cutcher
After more than 20 years of working with big enterprises, Ms Owen Whitford left the corporate world and was driven to build the artificial intelligence platform. The platform is based around Indie – a bot that sees the early warning signs of stress and then helps people manage it before they burnout, or worse.
As a University of Sydney alumna, she entered the University's flagship startup competition, Genesis, run by the Business School and open to all University students, staff and alumni. The final seven startups competed for the coveted award last Friday.
The program is managed by Alex Carpenter, associate lecturer in entrepreneurship at the Business School.
"I really enjoyed meeting the cohort of like-minded people doing some very cool things to help the world. Alex [Carpenter] was a great leader and support, and the mentors were excellent at helping me do some key things I needed to do throughout the program," she said.
The Business School's Head of the Discipline of Strategy, Innovation and Entrepreneurship, Professor Leanne Cutcher, commended the hard work and collegiality of this cohort.
"Pioneera is a wonderful example of how our graduates are innovating to solve pressing real-world problems like mental health," Professor Cutcher said.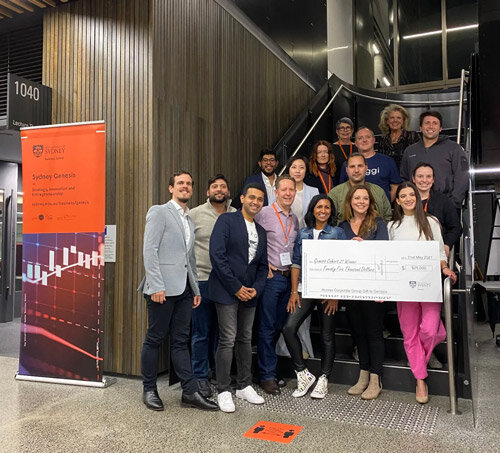 More than 1000 University of Sydney alumni, students and staff have completed the Genesis program and raised over $55 million, creating more than 900 jobs.
Earlier this year, Access Corporate Group announced it would fund four Genesis competitions across two years.
Chief Brand Officer at Access Corporate and graduate of the University of Sydney, Livia Wang, presented the award to Pioneera on Friday night.
"While 2021 has not been without its challenges, it has been incredible to witness the speed and scale of innovation in the world," she said. "It is why we want to support Genesis. It's a great program that helps entrepreneurs pursue their dreams and gives them the best chance of success."
---
If you or anyone you know needs support, please call Lifeline on 13 11 14, Beyond Blue on 1300 22 46 36 or headspace on 1800 650 890.