The Boosting Female Founders Grant launched in 2020 was designed to help support the growth and development of female-led businesses. It's a federal grant and intends to help fill the gap women experience when raising investment for their companies.
Danielle joined Kate Kendall from Atto to talk about her and Pioneera's experience with the BFF.
The third round of the program has launched and applications close on 2nd June.
Pioneera was a grant recipient in round 2, securing support to build and scale their SME offering to help more small businesses prevent workplace burnout. Our Founder & CEO Danielle has had many people approaching her to learn more about the grant and if its right for them.
So we thought we'd share the key things we've learnt along the way:
The BFF is not to help you run your business day to day, its for a project that will help your business grow and scale. In our case, it was for the project to help scale our Indie bot for SMEs.

Matched funding is critical. We secured matched funding from our existing investors and had to demonstrate that support in the full application (there are templates on the website you can use with your investors).

Make sure you answer the questions!!! We are not grant experts at Pioneera, so we worked with an expert that made sure we answered the questions fully and properly, rather than simply describe the product and how great we are!

Be prepared to wait! This funding is not for tomorrow and was about 10 months between subimiiting the EOI and receiving the funds.
There are three key steps to go through:
The Expression of Interest (EOI) due 2nd June.
The full application - those successful in the EOI will be invited to submit a full application
The acceptance of the grant agreement and contract, which outlines milestones, deliverables etc.
It can be an intense time, so get as much ready early as you can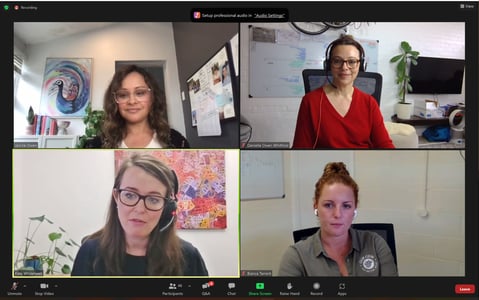 Danielle with Janine Owen of Grant'd, Kate Whitehead of Avant and Bianca Tarrant of Ourcow.

If you need to source investment, get started early. You can also prepare some documents in advance that you need, such as your business plan, pitch deck, cash flow statements etc.
The BFF has been great for our business and enabled accelerated growth. But like all competitive grants, it's not for everyone. Make sure your business is the right fit before you put your time and effort into it.